Adding a pet to your family is a big commitment…but Great Danes are a little bigger than most! We believe pets are a lifetime commitment and look for adopters that share our beliefs. Some of  our fosters have already had several "families." Our goal is to place our fosters with their true forever families. If this is not the right time for your family, if you cannot commit to the training requirements, the potential health issues of Great Dane, or you have a major life event around the corner, this may not be the right time to add a Great Dane to your family.
Forever Friends Great Dane Rescue is NOT a shelter.  Great Danes surrendered to our rescue live in private foster homes through out our area of operation. Foster homes become intimately familiar with their foster dogs' personalities, likes, dislikes, quirks, behavior issues, etc. Based on this first hand knowledge and experience, we make honest recommendations about the type of forever family that is best suited for a dog and we will not make exceptions.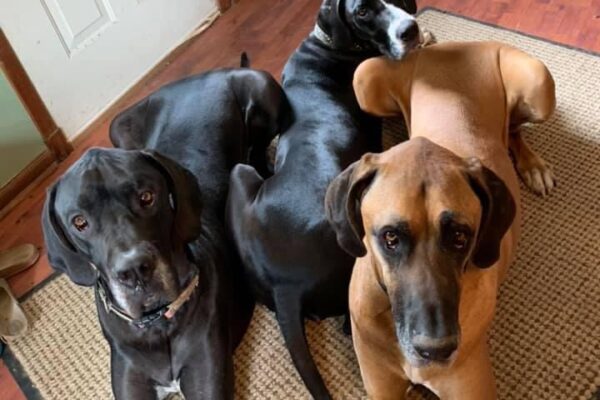 Adoption Process
Forever Friends Great Dane Rescue's adoption process is similar to that of other rescues. It is intended to ensure that our foster dogs go to qualified, loving homes that will make a lifetime commitment to their new family member. Our adoption process consists of the following steps:
Adoption Application & Application Fee – the applicant must complete the adoption application and pay the $25 application free prior to being considered for adoption. Application fees can be paid via PayPal or by check. Please go to the GIVE tab to make payment. Incomplete or inaccurate Adoption Applications are considered grounds for immediate denial. Adoption Applications will not be processed until the application fee is received. Note: Application fees are non-refundable regardless of your adoption status (denied, approved, no longer interested, etc.). 
Reference Check –  our volunteers will contact your references. Verify that the contact information is accurate. If we are unable to contact a reference or they do not return calls, the applicant will be contacted one time and asked for an alternative reference. PLEASE contact your veterinarian's office prior to submitting your application to give them permission to speak with our volunteers. If we are denied access to information about your current or past pets, you will be automatically denied. If you rent, our volunteers will also verify that your landlord and/or complex allows pets and that Great Danes are on their list of allowable breeds.
Home Visit – a Forever Friends Great Dane Rescue volunteer will contact you to schedule your home visit. The purpose of this visit is to verify any information you have listed on your application (i.e., fenced-in yard, crate, etc.) and to ensure that we are match the correct Great Dane with your home environment.
Adoption Coordinator/Foster Family Contact – if approved you will receive an initial call from the Adoption Coordinator informing you that your application was approved. If we have a suitable dog for your home, that dog will be discussed during this conversation and then you will be free to contact the foster family. If a suitable dog is not available, you will be updated frequently until a dog is available.
Adoption – prior to the adoption, you can request to meet the dog in an informal environment. In fact, we suggest meetings when there are kids and/or other questionable dogs that live in the home. If everything goes well the adoption can take place at that time or at a date no later then one week after the initial visit. If a meeting is not required, the adoption should be scheduled no later than one week (or the next available weekend) after you have been notified that adoption can move forward.
The adoption process can take as little as one week or as long as several months. There are several factors that play into the time frame including the availability of a dog that fits your families needs. You can help ensure there are limited delays by doing the following:
Ensuring that your application is complete and accurate. Incomplete or inaccurate applications (including inaccurate contact information for references) is grounds for immediate denial.
Submitting the $25, non-refundable application fee. Application fees can be paid using PayPal (credit cards included) or by check. Please go to GIVE tab to make payment.
Contacting your personal references, landlord, and veterinarian to notify them that a volunteer from Forever Friends Great Dane Rescue will be contacting them. Please give your veterinarian's office permission to respond to our questions with medical information about your current or former pets.
Accommodating a Forever Friends Great Dane Rescue volunteer by being flexible in terms of availability for a home visit.
Driving one to two hours to assist with any transports that are necessary to move the dog from its foster home to compete the adoption.
Planning your adoption around life events, vacations, etc. We do not hold dogs that are currently available for adoption in foster homes to accommodate vacations, family reunions, etc. If you have an event planned that will interfere with an adoption, please ask us to put your application on hold.