In a perfect world, there would be no need for dog rescues. But we don't live in a perfect world and neither do the Great Danes that rely on Forever Friends Great Dane Rescue to find them a forever family that accepts, loves, and is willing to help them overcome their imperfections. Because our foster dogs live in private foster homes, we experience their good and bad personality, temperament, and behavioral traits first hand. Our recommendations for the type of home that best suits a foster dog (no kids, fenced yard, etc.) come from that first hand experience and knowledge. But with some stability, structure, training, and a lifetime of love, these dogs learn to adjust, overcome, and become the perfect pet they have always wanted to be!
At the very least, adopters should expect an adjustment period of 2-3 weeks once a dog is adopted. During this time dogs may subdue their true personalities, have accidents, or act-out while they learn about their new family and routine. It is highly recommended that adopters begin their contractually required 6-8 week training class with their dogs during this adjustment period to help establish a trust relationship between you and your new family member.
Once your application is submitted, please be patient. The adoption process can take as little as two weeks (minimum) to several months or more depending on your requirements. Repeated phone calls and emails about the status of your application will only delay the process by requiring our volunteers to respond to those calls and emails instead of focusing their time contacting references, veterinarians, landlords, and performing home visits. If you are not matched with a Great Dane upon approval, your application remains active and is continually reviewed as more Great Danes enter our foster program.
The following guidelines are in place to ensure the safety and well-being of both our rescue dogs and our adoptive families:
Adopters must reside within Forever Friends Great Dane Rescue's areas of operation (Illinois, Indiana, Missouri, and Wisconsin). Adopters must be 21 years old.
Demonstrate the ability and commitment to provide proper care, exercise and training for the lifetime of the dog.
Agree that all dogs, especially Great Danes are indoor dogs and will live indoors with their family. For safety reasons, outdoor kennels, dog runs, and dog houses are not an acceptable means of confinement or dwelling for a Great Dane and are grounds for denial.
Adopters applying to adopt a deaf or blind Great Dane must have a fence with a minimum height of 4 feet.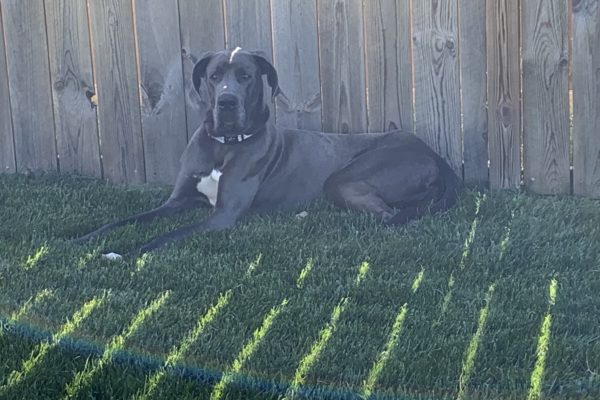 Applicants such as apartment or condo dwellers, if asked, must be able to provide written proof provided by the association or landlord stating that they have permission to adopt a Great Dane. At a minimum applicants must provide their landlord or associations contact information on the adoption application.
Applicants must be aware of and within their city, county, and residential laws in regards to the number of pets a person/family can own.
Agree to keep the dog safely on leash at all times when not in a fenced-in area.
Agree to accompany the dog through a 6-8 week group or individual obedience class within 3 months of adoption. If a dog is exempt from this rule, the adoption contract will be modified by a Forever Friends Great Dane Rescue board member to reflect such exemption.
All current pets must be spayed/neutered. There are a few exceptions to this rule. They must also be current on vaccinations and dogs must be on annual heartworm prevention.
Homes with children under 10 must understand that placing a dog in their home may take time. Dogs are evaluated on a case-by-case basis for their ability to live with young children. Once a recommendation has been made, we do not make exceptions. This policy is for the safety of both the dog and the adoptive family.
Adoption Fees
$475 Great Danes 6 months – 1 year old
$375 Great Dane mixed breeds 6 months – 6 years old
$375 Great Danes 1 year old – 6 years old
$275 Great Danes 7 years old – 9 years old
$125 Great Danes over 9 years old
Once the training requirement is met as outlined in the Adoption Contract, adopters are issued a $50 refund.
Adoption Application
Applicants may either click here to fill out an online version of the Adoption Application, OR click here to download the Adoption Application.
If you choose to fill out the online form, the application will be automatically sent to FFGDR, and you may also print a copy for yourself.
If you choose to fill out a downloaded copy, complete the application, save it with a meaningful name (for example: Adoption Application – John Doe), and then email it to [email protected].
Applicants have three options for paying the $25.00 application fee: Please go to GIVE tab to make payment.
Chase QuickPay, send the funds by entering our email [email protected]
PayPal (accepts credit cards as well) using the "Donate" button above
Personal Check. Checks should be made out to FFGDR and sent to: P.O. Box 20125, Indianapolis, IN 46220.
PLEASE NOTE – The $25.00 application fee is NON-REFUNDABLE. Processing applications takes a lot of volunteer time and the fees help us pay necessary medical bills. In fact, every $25.00 means a vaccination or microchip is paid for.  NON-REFUNDABLE for all reasons that may arise (application denied, withdrawing application, applying yet you live outside of our adoption area, you didn't thoroughly read about us and the process or whatever else the case may be). Your application fee is non-refundable. We thank you for your understanding and for your support!