Color: Black w/ White neck and feet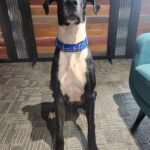 Age: 3 years old
Weight: 95lbs
Special Needs: None
Cats: Unknown
Dogs: Yes
Kids: Unknown
Exercise: Moderate; Salem enjoys walks and the space to run a couples times a day.
Training: Minimal training so far
Crate Trained: Not crate trained
House Trained: Yes
Needs Experienced Adopter: No
Adoption Fee: $375 (plus $25 application fee)
Salem is a 3 year old black and white Great Dane. She is a petite girl. Salem came to us from a shelter where she had been for a couple of months. She was emaciated at the time. Her life has not been great but her spirit is good. She is a gentle natured girl who loves attention. This girl is so deserving of a loving forever home.
In the last couple of weeks Salem has put on 8 lbs. and is looking so much healthier. She is very food motivated. She hasn't had much training but she picked up Sit and Shake very quickly. She's a smart girl that is eager to please. She is not crate trained. We are working on it but her separation anxiety has made it difficult.  It's a work in progress.
Salem didn't seem to really know how to interact with other dogs. Her foster siblings have been teaching her how to play. She has discovered that's a lot of fun! She gets along well with all of the dogs she has met. People are her favorite. She knows how to get all of the affection she wants
In the near future hopefully Salem will get to meet some kids to see how she interacts. Overall she's a pretty calm girl with a laid back temperament. She would love a home with a friendly canine sibling and someone who is home with her a lot.
She will make a great addition to a family as one of a pack or a single who gets all the attention. She is definitely low drama and high fun – she's silly and funny and very sweet and charming!