Color: Merle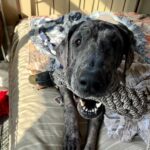 Age: 2 years old
Weight: 105lbs
Special Needs: A high-quality food that doesn't cause allergic reactions or inflammation flare-ups; medicated baths twice a week for a while.
Cats: yes (per previous owner)
Dogs: yes (per previous owner)
Kids: yes (per previous owner)
Exercise: Lizzo is pretty laid back. Some playtime after eating wears her out.
Training: Lizzo knows basic commands
Crate Trained: Not completely. Lizzo will go into her crate when she retreats and isn't afraid of it but foster family hasn't yet reached stage where gate is closed for long periods of time yet.
House Trained: Fully
Needs Experienced Adopter: No
Adoption Fee: $375 (plus $25 application fee)
Liz is a fun little Big Dog! She's come a long way since she was first fostered, but she's loving and playful and lazy and attached to people. She can be nosy around the house, but doesn't take things she's not supposed to. She just wants to be around her people when she's not napping and will find you if she can't see or hear you.
Both her skin and mood have made dramatic improvements since switching to a higher-quality food and getting her the right meds and shampoo. She used to scratch constantly (until she bled sometimes) and seemed just so tired and worn down from it all. Her body was so inflamed that we hardly recognize her since she started improving!
She simply seems appreciative for the improvements in her health and that's probably why she wants to stick close! She enjoys lazy home time and isn't interested in staying outside if it's cold or snowing or raining. Once the weather warms, we'll see if she enjoys some vitamin sunshine!
She will make a great addition to a family as one of a pack or a single who gets all the attention. She is definitely low drama and high fun – she's silly and funny and very sweet and charming!