Color: Harlequin/Fawn
Age: ~1-2 yrs
Weight: ~110 lbs
Special Needs: None
Cats: Unknown
Dogs: Yes
Kids: Yes, older
Exercise: Has lots of energy, would need exercise or play time
Training: 6-8 week training course required
Crate Trained: Yes
House Trained: Yes
Needs Experienced Adopter: No
Adoption Fee: $375 (plus $25 application fee)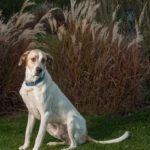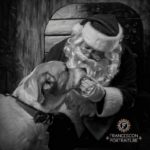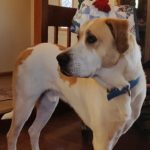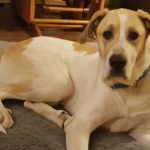 Meet Zeus – a mountain of a fluffy dog – part Great Dane part St Bernard who has a shy soul.
Zeus came to FFGDR from another shelter downstate, so we do not have any background on him. He is a neutered male, between 1 – 2 years of age, up to date on all his shots, housebroken, and he weighs 110lbs.
Since Zeus is shy, his perfect family (person) should know that he will love and give affection right away, however, as he comes to feel safe, secure, and know you as you know him the full trust and affection of this awesome dog will unfold. It is worth the wait.
Zeus likes a household that is more predictable than chaotic, a home that is slightly more quiet than it is noisy. This doesn't mean Zeus wants to live in a library, he does not!  He would prefer a household that is familiar with larger breeds.
Zeus is very good and comfortable with adults and older children as well as teenagers. He has not been around children much nor has he been around small dogs or cats. He has been fostered in a home with other larger breeds and he is terrific with them. He loves to run, play, rough-house outside, and I will say again run! He is an athletic dog who will go well with his family/person on walks or enjoy being outside as you garden or eat on the patio. He is working on playing catch, as he does not know how. Not knowing how to play catch is not for lack of intellect or athletic prowess, it is from lack of training.
This lack of training has held true in many areas of Zeus' life, and may be part of why he is shy. He was not exposed to things as a puppy, so as an adult he is uncertain and will need his family/person to provide strong leadership signals that new situations or people are safe and Zeus does not need to be afraid.
Zeus will follow the lead of the leader. Anything his foster family has endeavored to teach, Zeus has picked up. He is eager to please, wanting his people to be happy, and to be certain he is with them, being the one to make them happy.
This wonderful mountain of a dog looks brave, fearless, and ready for anything. When you meet him, you will see that outer look is but the thin candy coating that covers the soft center. The correct person/ family who is willing to slowly, gently, reassure while leading Zeus will find a partner for life and an amazing soul-mate of a dog.