Color: Black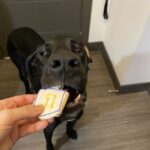 Age: 1.5
Weight:  93 pounds
Special Needs: None
Cats: unknown (will be testing soon)
Dogs: Yes
Kids: Yes
Exercise: Moderate
Training: Required, also needs some socialization experience
Crate Trained: Has exhibited a strong dislike for crates
House Trained: Yes
Needs Experienced Adopter: No
Adoption Fee: $375 (plus $25 application fee)
Wrigley is about as sweet as they get. She loves being close to her human and once the pets start, don't even think about stopping! She craves affection and loves face rubs and butt scratchies more than any treat you could give her. Wrigley also loves other dogs, but is a little timid of dogs her size or bigger and will match the energy you give her, so she would do best with a smaller dog companion that is as fun and as loving as she is.
Wrigley would do best in a home where she can be close to her person(s) or a dog companion as she gets upset when she's alone. She is especially good with little dogs and children. This little girl really is a gentle giant and she wouldn't hurt a fly. She will however need someone with confidence to walk her; she is still a puppy and is easily excited by the sight of other dogs or animals and will do her very best to go say hello no matter the distance or how many cars separate them. She is easily controlled by a good harness and is great on her leash aside from those puppy instincts.
Wrigley really is an all around amazing dog and I think she would be a great addition to any persons home. Low maintenance, an incredible listener, eager to please, and as affectionate as they come, this girl will definitely bring pure joy to whoever is lucky enough to adopt her.