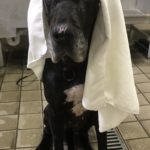 Color: Black
Age: 5 years old 
Weight: 120 
Special Needs: N/A
Cats: No
Dogs: No- Would do best as an only dog
Kids: Unknown 
Exercise: Likes to go for walks 
Training: Knows basic commands
Crate Trained: Yes
House Trained: Yes
Needs Experienced Adopter: No 
Adoption Fee: $375 (plus $25 application fee)
Takah is a beautiful black female Great Dane, roughly 5 years old. She is simply a delightful dog. She wants to be with her human as much as possible and will nudge you with her big head for more affection if you stop petting her. She's a typical Dane, leaning into you to be as close as possible. If your lap is open, she'll sit in it like your baby if you let her.
She loves going for walks, laying by a door or window in the sunlight looking outside, but she's also perfectly content just lounging about watching TV. Takah rides great in the car, she'll try to get up front with you, or at least put her head close to yours while cruising the streets. She would love to lay up on the furniture to lounge about, but if that's not your thing, it's easily corrected with a quick "no".Takah is perfect on the leash, she's fully housebroken, she knows "sit", "down" and "off". She is fully crate trained, however she doesn't need it because she will not disturb a thing in your home. She'd like to have a nice chew bone or two to chew on for about a minute or two, then she's done.
Takah is a loving and joyous girl, she loves all humans, but she's not fond of other animals so she must be your one and only. I promise this girl will fill your whole heart!