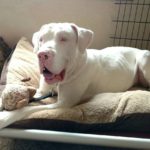 Color: White
Age: 2.5 years old
Weight: 120 lbs, short stature
Special Needs: Deaf and Blind
Cats: Yes
Dogs: Stevie does not know how to play, so other dogs read him as aggressive.  He may be able to co-habitat with a very calm, mild manner female dog who would keep some distance from Stevie.  Otherwise, Stevie should be the only dog.
Kids: I think Stevie would be fine with kids as long as they are old enough to understand his disabilities and do not startle him.  He is very strong so older kids would be best.
Exercise: He is young, so he needs to burn off some energy.  More importantly, he needs to get outside for walks to stimulate his mind.  When in the house he just wants to be next to his people.  He will lay right down and sleep by them.
Training: 6-8 week training course required
Crate Trained: No
House Trained: Yes
Needs Experienced Adopter: Yes
Adoption Fee: $375 (plus $25 application fee)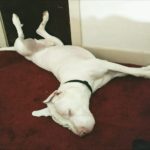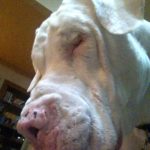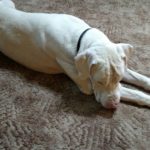 Meet Stevie a  2 ½ year-old male Great Dane who may be sporting a little Mastiff.  Though Stevie is special needs being deaf and blind, he is a very calm and confident young dog when in the right environment.    
Stevie has been in foster care five months and has made amazing progress.  He may be special needs, but he certainly does not act like it.  Being deaf and blind does not negatively impact his quality of life.  He is learning touch signals and is easy to communicate with.        
Stevie will be turning 3 years old soon.  He is a buff, healthy boy who loves to go on walks, explore hays fields and snooze on the front porch.  Stevie is good on a leash and can easily jump in the van, though he does need some assistance to get back out.  Stevie has no problem maneuvering his way through the house and goes up and down stairs with ease.  He quickly learned the yard and can find his way to and from the house.
Stevie thrives on interacting with his humans and loves to be doted on.  He will lean in for body rubs, and if you get on the floor with him, Stevie will shower you with kisses.  Once the love fest ends, Stevie will fall fast asleep alongside you.
Stevie's personality now shines and he is a funny guy.  He has learned what toys are and will greet you with one for round of 'tug'.  Stevie has also been known to roll on his back with an antler in his mouth and make goofy, grunting noises to start his day.
In the right environment, Stevie is very calm and confident.  His foster home has three senior dogs and everyone has settled into a routine.  Stevie's past has been filled with miscues and very poor interactions with other dogs, but he has learned his foster siblings mean him no harm.  Stevie does not seek to interact with the other dogs and they give him space, so all co-habitate peacefully.  When unattended, Stevie has his own area to relax and sleep just to be safe.  The foster home has started working on brief, interactions with the female dogs to build his trust and provide positive experiences.
Separation anxiety was a big issue when Stevie first arrived, but that has gotten much better with regular exercise and routine.  On workdays, anti-anxiety medication allows Stevie to remain at ease for 7-8 hours.
Stevie's ideal home will be one where someone can provide regular exercise and fresh air, interactive experiences, and a strong routine; a home where someone can spend time with him to continue training and patiently allow him to build trust.  Stevie would be a good candidate for therapy dog training.
PLEASE READ THE FOLLOWING
Forever Friends Great Dane Rescue adopts to qualified homes in the states of Illinois, Indiana, Missouri, and parts of Wisconsin.
ADOPTION PROCESS: If you are interested in adopting, please go to and review the Adoption Process

information carefully. If our terms and adoption fees are acceptable, please complete the Adoption Application.
NOTE: We cannot give any additional information about dogs until your application has been approved. A dog will be listed on PetFinder.com until it is no longer available for adoption.