Color: Blue Merle
Age: 8 months old
Weight: Over 100 lbs and growing
Special Needs: None
Cats: Unknown
Dogs: Yes
Kids: Yes
Exercise: Has lots of energy, would need exercise or play time
Training: 6-8 week training course required
Crate Trained: Yes
House Trained: Yes
Needs Experienced Adopter: It would be helpful, but is not required.
Adoption Fee: $475 (plus $25 application fee)
If your definition of puppy perfection is having a dog under a year of age, house broken, mostly trained, satin soft, who is looking to give kisses and snuggles, then look no further. Slate is ready for his Forever Family. At 8 months of age this beautiful blue merle Great Dane puppy is showing us what a big boy he will be, he already weighs 105lbs and is a touch over 33 1/2 inches at the shoulder. If you grew that many inches and put on that much weight in only 8 months you might not be sure where your feet were all the time either. That is by way of saying he is oft times a bit clumsy, but, by year 2, he will be sure footed, athletic, agile, and one of the most friendly dogs you could meet.
Slate is wonderful with children, adults and the elderly, but he needs instruction from his lead person so he knows what is expected of him. He will follow his leader(s). He also needs plenty of play time. He has the energy of a puppy, in short bursts. He enjoys living with other dogs, but has lived as an only dog. When Slate is in his crate or when he is away from other dogs or members of the family he expresses some separation anxiety. His form of expression is to whine and give other vocalizations. His separation anxiety is not extreme or destructive, currently the gentle training in foster care is starting to have success in treating his separation anxiety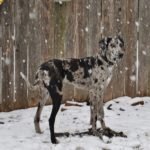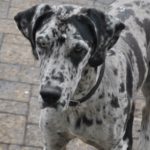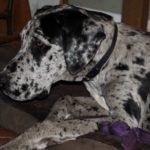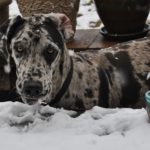 .
Slate will be available after completing his  medical care.