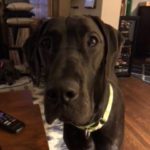 Color: Black
Age: 1
Weight: 96.8 lbs
Special Needs: None
Cats: Yes
Dogs: Yes
Kids: Unknown
Exercise: Needed daily
Training:  6-8 week training course required
Crate Trained: Yes
House Trained: Yes
Needs Experienced Adopter: No
Adoption Fee: $375.00
My name is Shadow!  I am just 1 year old and I am looking for the perfect family.  I am a beautiful 96.8 lbs and I love showing you how I can flaunt it.  I am all puppy when it comes to using my dane frame to show you how happy I am that you are home, that I am going outside, that we are going bye bye, that you are feeding me, that I am getting water….well I mean I am happy all the time.
I love being where you are and I also love to cuddle.  I am learning to be gentle and not allow my body to get out of control.  I am learning patience as well as confidence.  All I want to do it please you and earn your love and attention but I also need someone who can show me how to be the best version of myself.
I love being around other dogs.  My foster siblings get me and helps me get rid of my energy.  I would love to have fur siblings and would do best in a home with another fur baby that can handle my energy level.
I have no issues with being my crate and I am also potty trained.  I will let you know if I have to go outside and I good about going out and doing my business in a timely manner.
I am need of a family that is willing to give me the attention, experience, and confidence I need.  Are you that family?