Color: Fawn
Age: 2years
Weight: 95 lbs
Special Needs: None
Cats: ok
Dogs: ok
Kids: ok
Exercise: typical
Training: needs improvement
Crate Trained: yes
House Trained: yes
Needs Experienced Adopter: No
Adoption Fee: $375 (plus $25 application fee)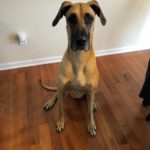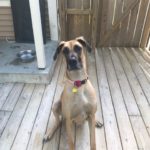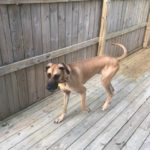 My name is Sadie, I currently live in a crazy foster house with 3 other dogs, a cat, and a 2 year old human, but I came from a home where I was the only dog so I'm okay with either situation though having a fur brother or sister I could play with would certainly help me burn some puppy energy.  My typical day is waking and going out to potty then breakfast and hanging out before going into the dog room/office where I spend the day.  The servants come home around 6:30pm and we hang out in the fenced back yard for a few hours before dinner and hanging out inside, resting before going to bed.  My foster parents say I'm good with kids, but I'll be honest when it's time to go outside I've knocked her down a few times, nothing bad, just something you would want to watch out for if you have a little kiddo.  Other than that I love to give her kisses and am really good cleaning up any food that may drop from her high chair.  When I'm excited I tend to jump up to give people hugs, but my foster parents say not everyone likes that so they are working on training and say my future forever parents should take me to some classes.  Other than that I'm just an easy going girl looking to settle down and be loved ️.
 If you have any questions or are interested, my servant will be more than happy to translate my answer to you.
Sadie