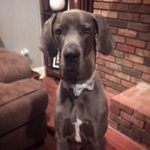 Color: Blue
Age: 12 months
Weight: 95lbs
Special Needs: None
Cats: Lives with 2 currently and pays no attention to them.
Dogs: Lives with another 1y/o male Dane.  They play well together.  Max is the less dominant of the two.
Kids:  Lives with kids ages 12 and 15 and he adores them.  
Exercise: Likes to go for walks.  Also likes naps.
Training: Comes when called.  Knows sit and down.
Crate Trained: Yes.  Sleeps in a crate at night.
House Trained:  Yes.  Will whine to alert when he needs to go out.
Needs Experienced Adopter: No
Adoption Fee: $375(plus the $25 application fee)
Maximus is an almost 1-year old blue Great Dane.  He was surrendered to a shelter in December and he didn't like it one bit.  He came to us completely stressed out, scared, and malnourished.  It is hard to imagine why anyone would want to get rid of this guy.  He is an absolute sweet heart.  He loves to be pet and loves to lay his head in your lap.  He acts like he would like to get up on the couch for some real cuddling but has been excellent about listening when told no.  Max is good with cats.  He currently lives with two and completely ignores them.  He also lives with another Dane.  They get along great and he would do well in a home with another dog.  He would also do fine as an only dog too because he would enjoy having all the attention to himself.  Max sleeps in a crate at night.  He has been trustworthy when left to free roam a small portion of the house.  So far Max has shown no interest in chewing items that don't belong to him or getting into trash.  He does not jump up on counters but is quite interested in anything you are making in the kitchen.  He loves food and treats.  The vet said he needs to gain some weight and he is making fast work of that.  He is working on his manners for politely accepting a treat and is making progress every day.  He earned himself the nickname Gremlin for how he initially gobbled up treats. Max really enjoys going for walks.  He does pull a little on the leash when he's excited, but he is still a puppy.  Max is eager to please, so I think this won't take long to correct. He already knows sit, down, and he comes when called.  This handsome boy is looking to be someone's forever shadow in his forever home.  I promise he will melt your heart time and time again with his sweet loving personality.