Name: Lazara
Color: White
Age: Puppy born June 2017
Weight: growing; will be a large dog (100+ lbs)
Special Needs: deaf, visually impaired
Cats: Yes
Dogs: Yes
Kids: Yes, older only; no young kids
Exercise: Daily
Training: 6-8 week training course required
Crate Trained: Yes
House Trained: Will be by the time of adoption
Needs Experienced Adopter: YES
Adoption Fee: $475 (plus $25 application fee)
Forever Friends Great Dane Rescue is looking for a furever family for this amazing Dane!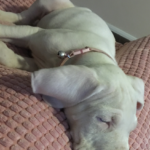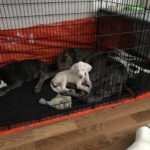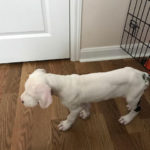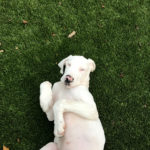 Meet this adorable, Dane puppy, Lazara. Lazara currently lives in a foster home with 4 other dogs and a cat, she gets along well with all of them and would probably do best in a home with at least one other dog for her to wrestle and play with. It also helps with her training and the learning of signs to have other fur siblings to follow direction because Lazara is deaf.
She knows sit and wait, and when we get her attention and point to her spot she knows to go there and lay down.
Lazara is still a young puppy so there is plenty of personality and energy to go around. She is constantly learning and growing (physically and mentally). We are working on potty training and she knows the concept; but as puppies are… it's just letting us know she needs to go, but she always goes when she is outside.
She is teething so likes nylabones and a few of the soft animals that don't have fluff. She loves to play with her foster kids and can be outside playing and soaking up the sun, or inside cuddled up with the other kids, or preferably, next to her human. She does prefer to be crated with any of our other dogs as well, she can handle being crated alone, but likes to curl up and sleep with one of her foster siblings.
We leave her crated at night and during the day when we are out and she might pee, but is usually good. We tend to have accidents when we are home and she just doesn't know how to tell us she needs to go out. The thing we are working on most is chewing, obviously being a puppy we are going through teething so it's just replacing my finger or a blanket with one of her bones or toys (again the wheels are turning inside her head, just need to make them all click)
To tell you about my day, I wake up at 7am and go right outside for 20-30 minutes; I have breakfast and rest 30-40min, then go back outside for potty. Afterwards, I go into the office and have free reign of a room with supervision and my foster siblings! Around 1-2 I get to go outside again for 15min, then back to the office till 6pm. Then, I get to go back outside to play for a few hours depending on the weather (my foster humans are so great with giving me play time and outside time!) Then, I eat again around 7:30pm, rest, then outside to potty again. Then, it's relaxing evening time. Between 10-11 I go outside for a quick potty again before going upstairs to sleep.
Although Lazara is not spayed yet, she will need to be before adopting out. Fence required for puppies; older children allowed, not young children. Dane experience required. Puppies do not leave foster homes until they are 6 months of age and are cleared medically to be adopted.