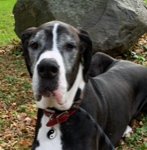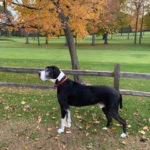 Color: Mantle
Age: 8yrs
Weight: 110lb
Special Needs: None
Cats: Unknown
Dogs: Yes
Kids:  Yes 
Exercise: Normal
Training: Yes
Crate Trained: Yes
House Trained: Yes
Needs Experienced Adopter: No
Adoption Fee: $275 (plus $25 application fee) 
Meet Hugo, he is a loving 8-year-old Dane that is happy to do just about anything with his people.  He is a gentleman on a leash and enjoys visiting other dogs in the neighborhood while out and about on his walks.  Hugo knows sit, down and we are working on "go to your mat".  He is doing pretty well with it, but he still needs to be walked over to his mat.   We are working his counter surfing, if you catch him and correct him, he will listen, but he still cannot be trusted with food on a counter on his own.  Hugo gets along great with his two foster siblings (another Great Dane and a Cocker Spaniel).  He likes to wrestle and play with foster brother and knows to be gentle with his little foster sister.   He is both house trained and crate trained, he loves his crate and is more than happy to spend time just hanging in his crate.  Hugo is shy at first when meeting people but within 30 seconds he is all about the attention.  He gets along with all people including children.  Once he gets to know you, he can be a little pushy for attention, but listens when corrected.  He is a great companion and loving sweet dog that will bring joy to his new forever home.