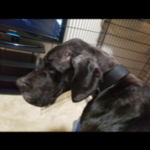 Color: Black
Age: 3-4
Weight: 100lbs
Special Needs: None
Cats: Yes
Dogs: Yes
Kids: Older
Exercise: Typical
Training: Knows some basic commands
Crate Trained: Yes
House Trained: Yes
Needs Experienced Adopter: No
Adoption Fee: $375 (plus $25 application fee
Heidi was rescued, along with Sugar, by an animal control officer. The two were left outside with little shelter and very malnourished. She is about 90 lbs but needs to increase to about 115 according to the vet. She is primarily black with a white tux chest and white speckled paws. Her eyes appear sunken due to her low weight but are getting better every day.
Since coming to her foster home Heidi has received lots oft love and TLC for parasites, a split open tail and slowly introduced back to dog food to allow for her stomach to learn to digest again.
She is very loving and a bit shy bur intelligent! She is crate and house trained when kept on a schedule. Heidi is warming up to her two canine foster brothers and respectfully ignores her feline foster sister. We don't know yet about young children but is a bit clumsy to introduce yet. Socialization will take some time since the poor dear was ignored so long.
Heidi can sit, lie down, wait and heel on command. Her future home will gain lots of unconditional love when they adopt this sweet young girl. Heidi will need time to gain weight and receive the medical she desperately needs. If interested please apply.