Color: Merle
Age: 2.5 years old
Weight: Approximately 100 lbs (severely underweight when we received him)
Special Needs: He is currently on Medical Hold-needs to gain weight and become more stable
Cats: Yes
Dogs: Yes
Kids: Yes
Exercise: Comfortable being active or lazy
Training: 6-8 week training course required
Crate Trained: No, but working on it in current foster home; trust-worthy loose in house
House Trained: Yes
Needs Experienced Adopter:
Adoption Fee: $375 (plus $25 application fee)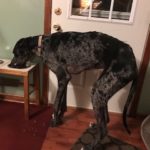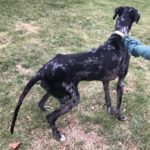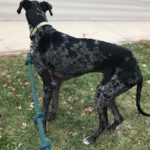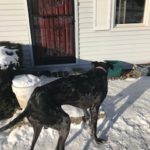 Meet Han! We, at Forever Friends Great Dane Rescue, would like you to know some things about Han.
Han is a 2.5yr old Merle male. He is great with other dogs, cats, and kids. He came into rescue severely underweight and with a limp. Han is currently on medical hold. The vets feel he is approximately 40-50 pounds underweight. He weighed 92.2lbs on arrival. Once he gains some weight and becomes more stable we will get x=rays of his front leg. He is currently on anti-inflammatory meds and appears comfortable in his foster home.
His foster mom says he is a wonderful, sweet boy who loves to cuddle and kiss. He does bark loudly at anything moving outside. He is working on using his quiet voice. His foster mom tells him that it is okay and he is starting to stop barking immediately. This will be a work in progress. He is house trained. He cries when he needs out. He has been slowly learning what toys are and enjoys playing with his foster siblings. Han is not crate trained but we are working on it. He is trust worthy loose in the house. Han does pull on a leash but is also trust worthy off leash.
As Han progresses with his health, updates will be made to the site. Please feel free to donate to the rescue to help with Han's care.
PLEASE READ THE FOLLOWING
Forever Friends Great Dane Rescue adopts to qualified homes in the states of Illinois, Indiana, Missouri, and parts of Wisconsin.
ADOPTION PROCESS: If you are interested in adopting, please go to and review the Adoption Process

information carefully. If our terms and adoption fees are acceptable, please complete the Adoption Application.
NOTE: We cannot give any additional information about dogs until your application has been approved. A dog will be listed on PetFinder.com until it is no longer available for adoption.