Color:  Merle/Harlequin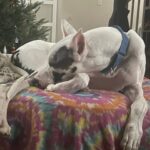 Age: 1.5 yrs
Weight: 120lbs
Special Needs: Deaf
Good with Cats:   Yes
Good with Dogs:   Yes
Good with Kids:  No Small Children
Exercise: Low-medium
Training: Needs further sign/touch training
House Trained:  Yes
Crate Trained: No
Energy Level:  Moderate
Needs Experienced Adopter:  Yes
Adoption Fee: $375.00 (Plus $25 application fee)
Goose here, just looking for my forever family. My foster dad tells me I'm one of the harder bios he's had to write. Basically I'm a deaf 120lb puppy who is still learning how to behave.  I'm potty trained and know the basics, but I don't understand why I'm not allowed on the couch and if I muscle way up there I don't like getting down.  I do this weird Elvis lip curl when I don't want to do something.  My dad doesn't let me get away with acting like that so I'm slowly getting better, but I'm a work in progress.
This is the main reason my bio says no kids.  I've met kids and I like them, but I might try and sit and/or do the Dane lean on them if they're in my spot on the couch, and my 120lbs is all muscle and doesn't move easily lol.
I live in a house with another Dane, but my favorite buddy is their Frenchie, we love to play out in the backyard.  They have a cat too, but every time I try and check him out he runs away so whatever.
Other than playing in the backyard, my favorite pastime is sleeping and occasionally barking as people walk by the house.  Apparently there is this thing called a doorbell and this is where being deaf is a plus, I sleep like a log and when it rings all the other dogs go crazy.  Most times I just sleep through it but if I see everyone else going crazy sometimes I like to join in so I'm left out of the fun.
All in all I just want to be good boy, but I need help getting there.  If you're up for it I promise you'll never be lonely again (I'll even follow you to the bathroom❤).
Thanks and let me know,
Goose