Color: Mantle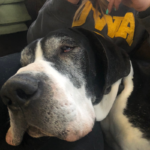 Age: 6-9yrs
Weight: 140lbs+
Special Needs:  None
Cats: Yes
Dogs: Yes
Kids: Yes
Exercise:  Enjoys both adventurous and lazy days
Training:  Encouraged
Crate Trained: Yes
House Trained: Yes
Needs Experienced Adopter: No
Adoption Fee: $275 (plus $25 application fee)
Hi! I'm Goliath, the world's best lap dog and greatest snuggler! My foster parents lovingly call me "big head." Apparently I'm a big guy, but still need to gain a little weight. They tell me I'm a very good boy! I get along with my foster siblings which consist of other dogs, a cat, horses and roosters! I enjoy going down to the barn with everyone to feed the horses. I don't need to be tied up or anything because I stay close to my people. If I do wander off a bit I know my name and will come when called.
When I first got to my foster home I was very scared and confused. I cried a lot and didn't want to be left alone. After a few weeks I felt comfortable enough to start relaxing and enjoying my new digs. I zoom around on occasion and play with toys. I'm not destructive, but my foster mom did yell at me a couple times for "marking" in the house. I know that's wrong now and I'm trying my best to remember not to do it. Anytime foster mom or dad tells me I'm naughty I listen right away. I like to make my people happy.
I love to snuggle! Oh my gosh that's the best! I just want love and hugs and kisses and cuddles! Oh, and did I mention I like laps? Laps are sooo comfy to sit on! Can I sit on your sofa and sleep in your bed? That would make me so happy! I'm good with snoozing most of the day and watching out the window for when my people will come home. I'm a pretty cool Big Head!
People don't know exactly how old I am. My face is super droopy and smooshy and oh so cute that it makes me look old. I don't have a problem getting around though. I jump in the car easily on my own, I climb the stairs, navigate smooth surface flooring and I run and run at the barn. I could be as young as 5 but I could even be as old as 9; it's my secret and I'm not telling!
If you want to snuggle with me and love me forever please fill out an adoption application so my rescue friends and start checking to see if we might be a perfect match!