Color: Black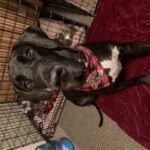 Age: 22 Months (DOB 2/24/2019)
Weight: 160lbs
Special Needs: no
Cats: Yes
Dogs: Yes
Kids: Recommend older children
Exercise: Typical
Training: Knows basic, needs more
Crate Trained: Yes
House Trained: Yes
Needs Experienced Adopter: Yes
Adoption Fee: $375 (plus $25 application fee)
Finnegan is a very sweet boy. He came into rescue because his owner was working long hours and realized he needed more care than they could give. Finnegan is good with his foster sibling Danes and cats. He is a playful puppy and likes to chase the cats a little. It would be best if the new home has a cat, that it is dog smart. He is just rough and does not know his size.
Finnegan does know how to sit, lay down, shake, and is crate trained. He loves to play fetch. He will empty the toy box as soon as it is filled. Finnegan is a drooler. I think most of it is nerves but some is he is just a wet mouthed Dane. Finnegan could also lose about 10ish pounds(could't we all).
Finnegan will need someone willing to socialize him and continue his training. He gets nervous in new situations and with new people. He is a talker. If anyone has ever owned a Dane that talks you know what we mean. He will just let out a grumble while playing by himself or cry if he needs something. He sounds aggressive but really is a sweet boy who loves pets, scratches, and any attention anyone would like to give him.
Finnegan did arrive with 2 benign growths on his back feet. They are scheduled to be removed by the vet on 1/11/21.