Name: Eliana
Color: Brown with Catahoula markings
Age: About 2 years of age
Weight: not Great Dane Giant size, because she is a mix (85 lbs)
Cats: Unknown
Dogs: Yes
Kids: Yes
Exercise: Daily
Training: 6-8 week training course required
Crate Trained: Yes
House Trained: Yes
Needs Experienced Adopter: No
Adoption Fee: $400 (plus $25 application fee)
Forever Friends Great Dane Rescue is looking for a furever family for this amazing Dane!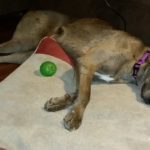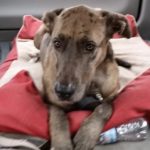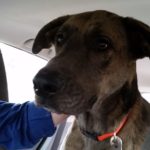 Meet this adorable, Dane, Eliana (Eli for short). Eli came into foster care on November 17.  She came with nothing…no history, no backstory, not even a name. What she did have going for her, was startling good looks, the sweetest personality, and a can-do attitude that immediately won us over. She helped us pick her name, Eliana, (the name means "God heard my prayer,") when she responded to it after we tried out a sea of others.
Eli is around 2 years old. She is in excellent health, and is very clearly well-trained. She comes when called, sits, and shakes. She walks well on a leash, has a gentle mouth, and loves squeaky toys.
Eli is a Dane mix, which means she is still a larger dog, but she is not even close to a giant. Most who meet her believe she is a mix with a Catahoula Leopard Dog. If this is true, she has the best of both breeds. She has wonderfully gorgeous markings, she leans in for snuggles, and she does not have the distinctive Great Dane jowls, so there is less drool. The Catahoula side brings with it an instinct to herd the other dogs in the foster family when they go out to play together, so her forever family needs to know herding is part of her play.
Eliana is incredibly friendly with everyone she has met. There are some moments when she will approach with shyness, but they do not last long. Eli looks to her people to be certain the environment is a safe one, and then she is happy to simply fall into the moment.
In addition to liking people, she is very happy to be with other dogs. She is not an Alpha. She is more than happy to let another lead. But Eliana would be fine to be a single dog who was able to absorb all the love and attention in the house as well.
Eli is fantastic, in every way. Anyone who adopts her will be blessed with a wonderful companion.