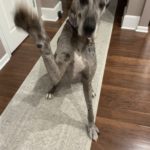 Color: Black/Grey Merle
Age: 7
Weight: 112lbs 
Special Needs: None
Cats: Yes
Dogs: Yes
Kids: Yes
Exercise: Minimal
Training: Minimal
Crate Trained: Yes
House Trained: Yes
Needs Experienced Adopter: No
Adoption Fee: $275 (plus $25 application fee)
Dixie is a sweet 7 year old. She's had a few litters in her past, but she is now spayed. Sweet is an understatement. This poor girl has bounced from several homes in her 7 years. She's a little timid, but extremely loving. Dixie loves to be near her humans and will be your shadow. She knows several basic commands, learns quickly, and corrects well. She can be a barrel of energy for about 30-60 seconds and then is ready for a nap or cuddles. She is crate trained. She loves car rides. She does pull on a leash, but that can be corrected with a dual-lead harness. The vet said she is extremely healthy for her age with excellent mobility. She would make a wonderful first Great Dane for someone. Who wouldn't want to come home to that adorable face waiting for you!