Color: Black with white spot on chest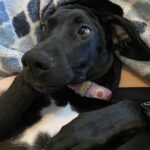 Age: approx.1 but she was found as a stray so we cannot be sure
Weight:  75 pounds
Special Needs: None
Cats: Yes
Dogs: Yes
Kids: Aged 10+ only
Exercise: She is a very playful little girl who loves to be outside.
Training:  She has made incredible and swift progress but will need some more obedience training. Very treat and food motivated
Tricks: sit, lay down, off, paw, other paw, up
Crate Trained: Yes, it's her safe space.
House Trained: Yes
Needs Experienced Adopter: No
Adoption Fee: $375 (plus $25 application fee)
Daisy is a beautiful "micro" 'Dane. Her chart indicates she may be mixed with lab but we cannot be sure. She looks very 'Dane, just mini. She was found as a stray in the middle of the road and taken in by the wonderful women at Uptown Pup right here in Indy. She was homed briefly but Daisys puppy energy found to be too much for the family's other Great Dane and she was brought back to Uptown Pup before finding her way to our foster group.
Daisy is about as sweet and as playful as they get. Once you have earned her trust, which doesn't take long, she melts right into you; however, she can also be overwhelming. She will sometimes bark at other dogs out of excitement and noises that feel too close for comfort. She can be easily distracted by making the tv louder, talking to her, or redirecting her attention with treats. Since being in her foster home she is learning quickly and has barked less and less while learning not to react to other dogs barking. She's incredibly smart and food motivated so she is willing to do whatever you want her to for the right treat!
Daisy does not read other dogs well and does not know when enough is enough which is why I suggest she either be homed with a patient and playful dog and very patient humans that will let her be the fun and exuberant puppy she is, or that she be the only dog in the home. She is not aggressive, although her barks may sound that way, she is just a bit "annoying" to other dogs. She feeds off excitement so I imagine she will be even more playful than she already is as the only dog in the home if she were to be homed with another dog(s). I also suggest that there be no children as she is still a big girl and does not know her size and is oblivious to everything when in zoom mode. Since she was found as a stray she is still learning how to be a dog and what is acceptable to play with and not. Most days she goes for her toys, but others I will find her with one of my sweatshirts in her mouth (no destruction though just slobber), tissues, etc. I crate her for this reason when I leave the home but if you keep a fairly clean home with not too many things for her to reach or get in to, she is okay to be left out. I have left her confined to a room with no issues before but she does in fact love her crate and will happily go in it when you ask her too or if she's stressed out (ie: bath time).
Daisy is great on her leash as long as she is put in a harness. She would do excellent with a backyard so she can get her zoomies out and run free. She especially loves the snow. As she is currently the only dog in her foster home, she can be calm and sleeps a good portion of the day when she gets in 2 good walks. She does however like to follow her person around the house. She isn't so much insecure as she has no problem being left home and crated; she just likes to be close to her person and wants to join in on whatever fun you're having, even if its just a walk to the bathroom.
Like I said this girl is the biggest cuddle bug. She needs a home that allows her on furniture but her dream would be someone that will invite her into bed with them as well. The closer, the better! She is the ultimate little spoon. She is notorious for climbing into her foster moms bed after she's already fallen asleep, so even if you don't invite her into your bed she will most likely end up there anyway. She would also do well with someone who will want to play with her on their time off and take her on adventures or play in a yard. She is obsessed with her toys and will happily play with herself by tossing them into the air but she loves it even more when you play with them with her. She will be the ultimate gal pal and bring excitement wherever she goes. Additionally, she would do best with someone that will not leave her for long periods of time since she is so human oriented and also due to the fact that she struggles holding her bladder for more than 3 hours. She has only peed her crate once and on that day I was gone for 4.5 hours and she was very upset with herself.
Daisy is a sweet and sensitive soul who needs someone to spoil her and help her to gain confidence outside her home and with new people/ experiences. She is extremely loyal and will bond with whoever takes her very fast, so if you're ready for a sweet, playful best friend, she will happily claim you too!