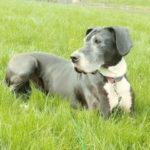 Color: Mantle
Age: 4yrs
Weight: 100+
Special Needs: 
Cats: No
Dogs: No
Kids: No
Exercise: Walks and running in a yard
Training: 6-8 week training course required
Crate Trained: Yes
House Trained: Yes
Needs Experienced Adopter: Large/Giant dog experience preferred
Adoption Fee: $375 (plus $25 application fee)
This is Daisy. A beautiful lean and active female Great Dane in need of a great home. Daisy has been in foster care for a long time and she has made a ton of progress. She has been working hard and is now ready to meet her potential home. Daisy loves people! At first.. she is very shy.. for like 5 minutes or less.. she might even act a tad scared. But honestly.. do you run up to strangers and hug them right off the bat? All she needs is that short amount of time to adjust.. treats help a great deal 🙂 She will gladly risk anything for some goodies!
Daisy loves to go on walks and gets really excited over her leash. She is a dream on the leash and does not pull. She would love a home that is active and will take her walks often, or even a ride to her favorite pet friendly stores.  The perfect home would have a fenced in yard as she loves to turn her motor on and run. She is truly majestic and is a powerhouse.
You will see that Daisy needs a home without children, and this is the reason. Daisy is powerful and full of energy. She actually likes kids but she has no idea how strong she is, plus she gets excited when little ones run around with noisy toys.
As much as she likes to be active, Daisy is just as happy to chill with her human. She prefers to sleep on her dog bed. Daisy also does not need to be crated, but actually she likes her crate to be available if she wants some alone time. At her foster home, the door is never closed on her crate, but it is there for her if she wants.
Daisy has these commands down pat, Sit, Down, Shake, Stay, Heel and Leave it.
Daisy is the definition of an alarm dog. She will let you know if something is amiss, but she would prefer you take care of it. Daisy needs to be the only dog in the home. She greets dogs well on walks and while at stores, but in the home, Daisy needs to be the center of attention.
I will warn you, once you bond with this sweet girl (and she will need time to do this) she will steal your heart. You will need to give her some space for a few days.. let her acclimate to the change.. but the first time you see her joy.. it will be infectious. You will want to be her best friend and she trust me, she is the perfect best friend. If you have patience, and a big heart that is waiting to be stolen, Daisy just might be the one for you!