Color: Merle
Age: 7 months old
Weight: Approximately 100 lbs (may continue to grow)
Special Needs: None
Cats: Unknown
Dogs: Yes
Kids: Yes, older
Exercise: Has lots of energy, would need exercise or play time
Training: 6-8 week training course required
Crate Trained: Yes
House Trained: Yes
Needs Experienced Adopter: No
Adoption Fee: $475 (plus $25 application fee)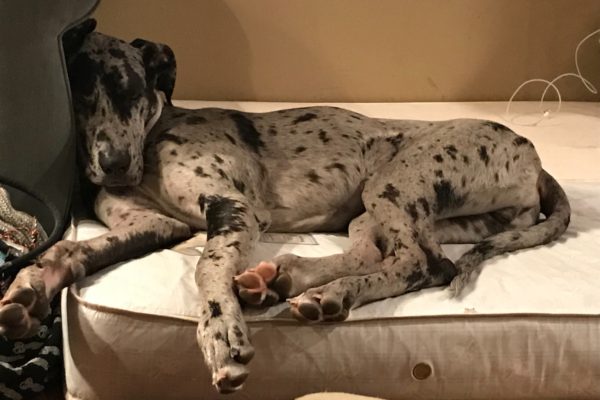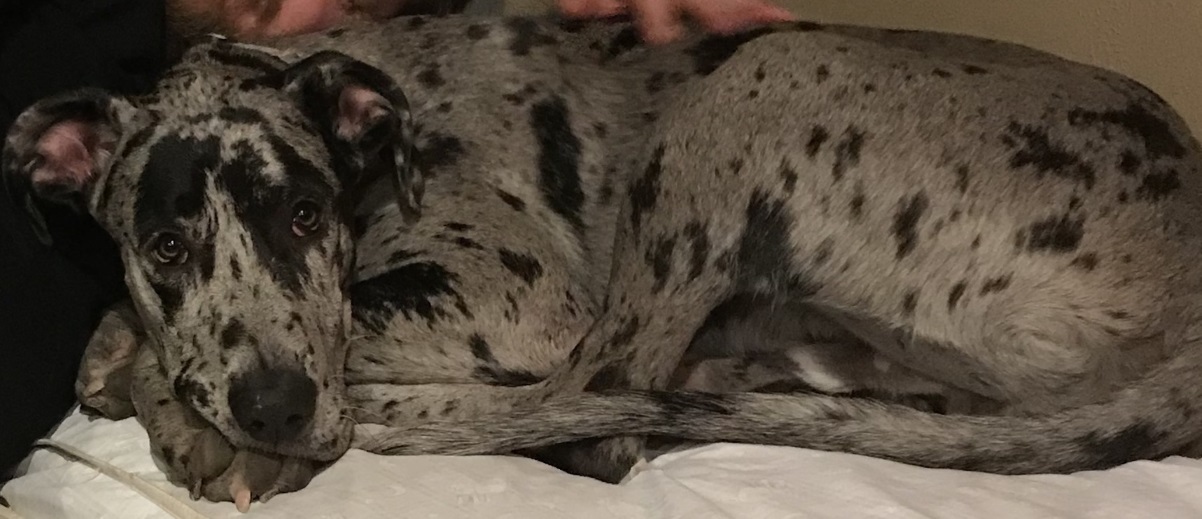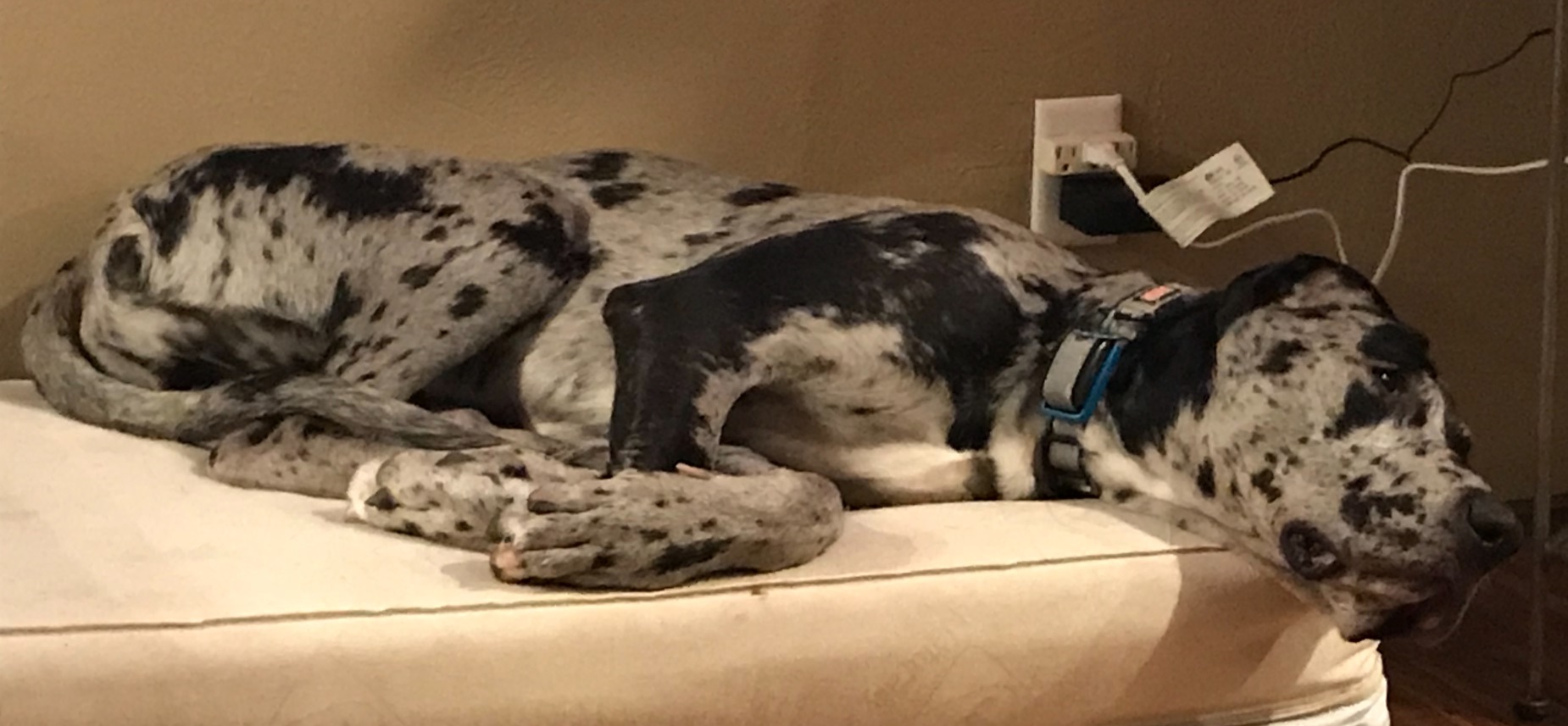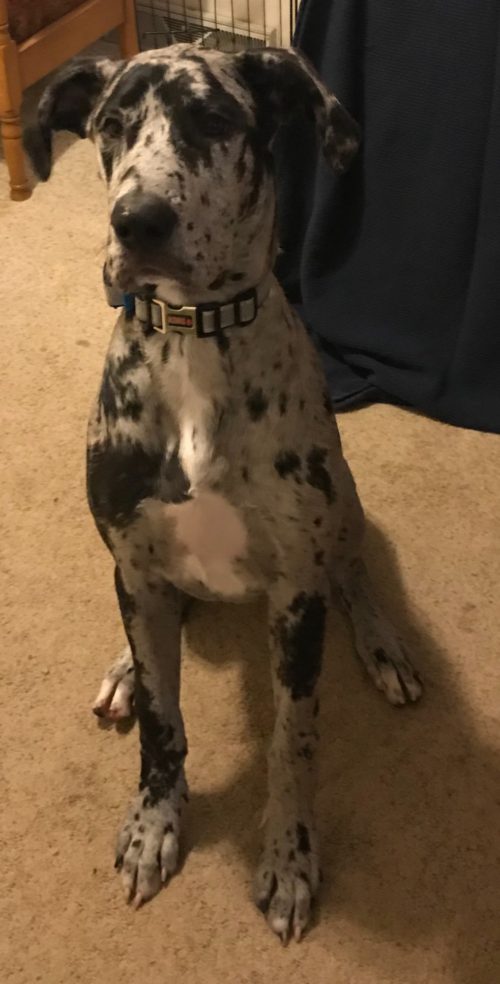 Forever Friends Great Dane Rescue is looking for a furever family for this amazing Dane!
Hi there, I'm Cole! I'm a 7 month-old, pure bred Great Dane. I am completely lovable and aim to please the people in my life. I enjoy playing with my foster brother and sister. We have such a great time. My foster parents have been working hard to get me to listen to basic commands. I listen very well, especially when they are training with positive reinforcement (aka TREATS)!!! I came from a loving home, but my people didn't have a place big enough for me, nor was there any place for me to run around and play. As I stated, I am a puppy and have a lot of energy!
My foster dad is my favorite person in my life right now. My foster mom thinks that I am the most beautiful Dane that she has ever seen. I told her that I already knew that. There are a lot of people in my foster family and they have many friends. I am getting much better at socializing and making new friends. I can be vocal. It's not to upset you, I just want everyone to know that there are more friends coming over to play with me. Sometimes I get shy at first, but I warm right up when I see my foster brother and sister playing with them.
I would love to be with a family that has a friend for me to play with, but If not, that would be ok too. It would just mean that you would have to give me more of your time! I am not aggressive at all, I'm even willing to share my food and toys with my foster siblings. But my foster parents want me to eat all my food, so I grow up to be big and strong. All I want is my forever home. I am such a good boy. Will you be the one to love me forever and give me my forever home?
PLEASE READ THE FOLLOWING
Forever Friends Great Dane Rescue adopts to qualified homes in the states of Illinois, Indiana, Missouri, and parts of Wisconsin.
ADOPTION PROCESS: If you are interested in adopting, please go to and review the Adoption Process

information carefully. If our terms and adoption fees are acceptable, please complete the Adoption Application.
NOTE: We cannot give any additional information about dogs until your application has been approved. A dog will be listed on PetFinder.com until it is no longer available for adoption.