Name: Buddy
Color: White
Age: Puppy born June 2017
Weight: growing; will be a large dog (100+ lbs)
Special Needs: deaf, visually impaired
Cats: Unknown
Dogs: Yes, older only; no young kids
Kids: Yes
Exercise: Daily
Training: 6-8 week training course required
Crate Trained: Yes
House Trained: Will be by the time of adoption
Needs Experienced Adopter: No
Adoption Fee: $475 (plus $25 application fee)
Forever Friends Great Dane Rescue is looking for a furever family for this amazing Dane!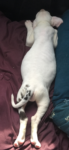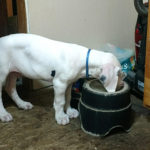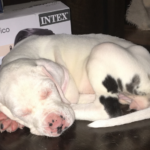 Meet this adorable, Dane puppy, Buddy. He is a very rambunctious and playful puppy who is also very stubborn for a puppy. This may be because he is deaf and visually-impaired, but he is also very loving and wants to be with you all the time. He is still a puppy and thus is still a bit nippy at times. He is a big chewer and chews everything his mouth can get around, including his foster siblings and his foster humans.
Buddy is going to be a big boy and at the present time has had issues with his bowel movements; we are struggling to get under control, but he will grow up soon enough. Buddy loves getting a bath and will climb into the tub with you if he gets the chance. He is also a laundry stealer and thinks it's a game of keep away when you try to get it back.
You will be impressed with what he knows at his age; he is very smart and knows sit, down, come, and stay as long as there are treats and hand signals used. Buddy will make a great furever Dane for someone who has the patience and the understanding of trying to train a deaf dog.
Although Buddy is not neutered yet, he will need to be before adopting out. Fence required for puppies. Dane Experience required. Puppies do not leave foster homes until they are 6 months of age and are cleared medically to be adopted.