Color: Blue (with a white spot on chest)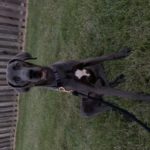 Age: 1 year old (born June 2019) 
Weight: 104lbs but still gaining weight 
Special Needs: N/A
Cats: Unknown. Shelter which surrendered Brody did indicate that he was very interested in the cats.
Dogs: Does well with other dogs. Has both large and small foster siblings. Still a puppy though so he can be overwhelming for timid dogs.
Kids: Has not shown any issues when meeting and playing with children 
Exercise: Likes to go for walks. Brody goes on walks at least four times a day, often more. He has also been hiking where his foster family reports he did really well!
Training: Currently learning basic commands
Crate Trained: Work in progress
House Trained: Yes- no accidents reported by foster family
Needs Experienced Adopter: No, but will need someone able to help a really big puppy maintain his manners and keep to a schedule
Adoption Fee: $375 (plus $25 application fee)
Brody is blue Great Dane just around a year old; we were told he was born sometime in June 2019. He is a big bundle of playful puppy joy. Brody was surrendered to a rural Indiana shelter along with his litter mate. It is obvious that he was very sheltered in his early life because everything is new and either exciting or scary. Yet Brody is very curious and very smart. He is a quick learner. When he sees something he is not sure of he will stop and just stare at it. If it is something "scary" he will run to your side and lean on your for support and will calm down when you touch him and tell him it's okay. He has been working on basic commands and already mastered 'sit".
Brody has never been an only dog and would do better in a home with another dog to continue to learn from and play with. He loves to go on walks with his foster siblings and prefers to walk together, as opposed to alone- confidence in numbers you could say. Since he is a pup still, Brody is learning toys and how to share them. He tends to be possessive of them with the other dogs but not towards a human. He shows no signs of food aggression; however he is fed separately from the other dogs.
Brody rides great in the car and is eager to climb in. He has gone hiking and did great and loved the hours spent in the woods. He also loves city life and its comfy couches or chairs but is learning that is not allowed. However, he will try and sneak up there the minute you are not watching him.
Brody is ready to find his forever home with someone that will keep him structured and active. It is certain that this person or family will not have any dull moments with this pup!