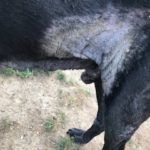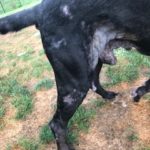 Color: Black
Age: 7.5
Weight: 115
Special Needs: none
Cats: yes
Dogs: yes
Kids: yes
Exercise: very little
Training: 6-8 week training course required
Crate Trained: Yes
House Trained: Yes
Needs Experienced Home: No
Adoption Fee: $275
Apollo came to us after being surrender to a shelter. He was taken there to be euthanized. Apollo suffers from a severe skin infection that has never been treated correctly. He has been suffering that we know of for the last 3 years. When Apollo arrived his ears were swollen shut, he was missing hair, he was scaly, and smelled terrible. He has 2 lumps that the vet is worried about. He also has skin tags that were caused by the infection. Apollo was seen immediately by the vet and placed on multiple oral medications, medicated baths every 2-3 days, ear drops, and topical lotions. There were no signs of mites. Apollo suffers from a severe yeast and bacterial infection. After being on medications for 1 month, Apollo has improved greatly. He has a long way to go but the vet is encouraged by his progress.
Apollo is a Dane/Lab mix. He got the good from both breeds. Apollo is good with cats, dogs, and kids. He is crate trained and completely house trained. He is not very good on a leash but his foster home will work on that when he feels better. He is amazing for his baths, never complains about the ear drops, and will let his nails be trimmed. His playful personality is starting to come out now that he is improving. He will run through the house or in the yard. Mini zoomies are what his foster mom calls it.
Please consider donating through the "give" tab on our websites home page. All money donated to Apollo will go to his care. His vet bills are adding up quickly. Any amount will be great appreciated.
11/5/18 UPDATE  Apollo is finally healthy enough for surgery. He was neutered on 10/29/18. At the same time he had 11 skin tags removed and 1 large tumor that was on his back right leg. We are happy to announce the tumor was benign. He is recovering well and has started running and playing like a puppy. His skin continues to heal and he has grown all his hair back.
Apollo will be available soon for adoption.