It's an exciting time here at Forever Friends Great Dane Rescue, we have… PUPPIES!!!!
Just after the first of the month, we received a surrendered pregnant female who seemed to be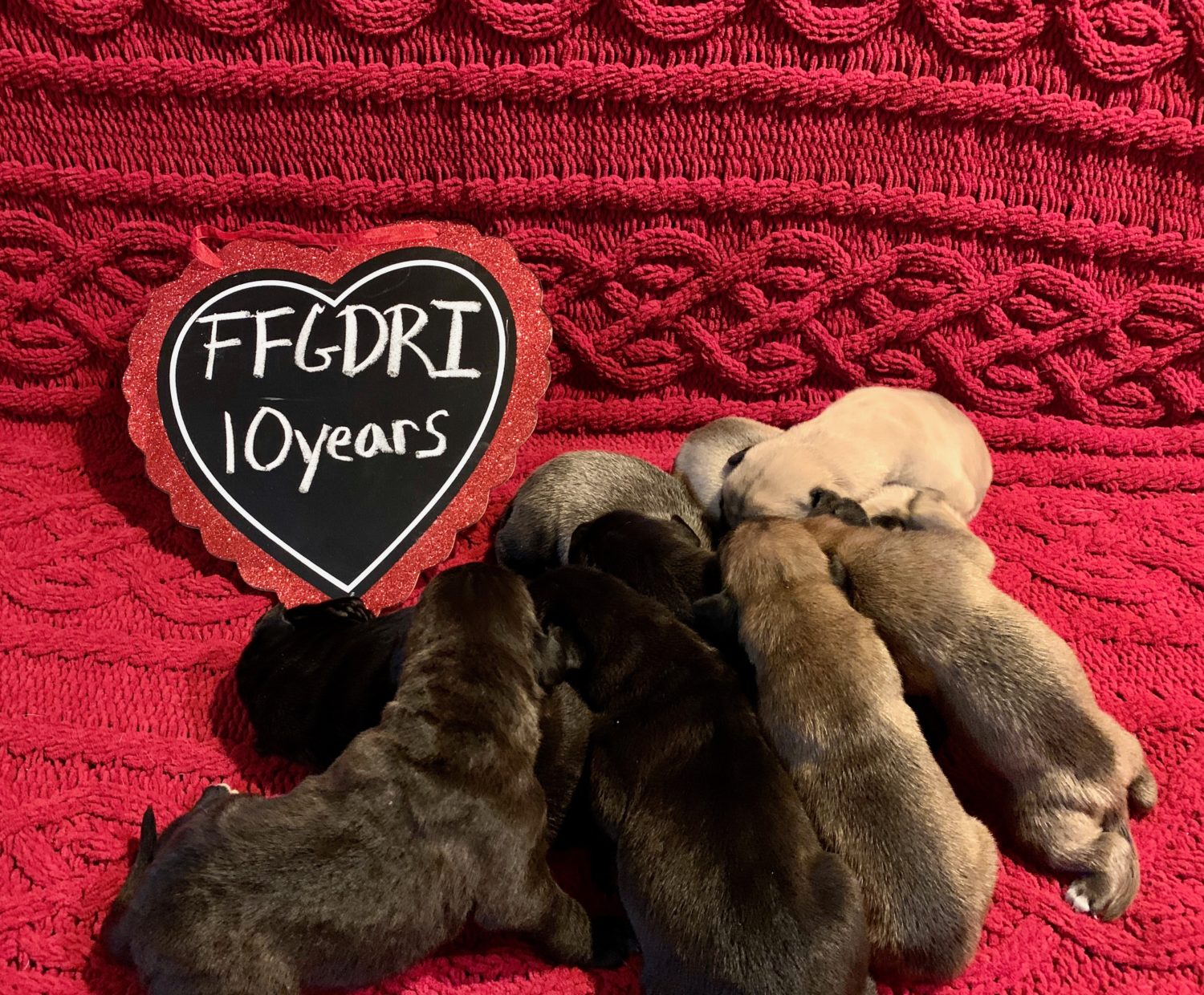 very close to delivering her litter. Luckily we could fit her in so after a multi-leg transport, her foster family got her settled in… just in time! So, with all the fun and excitement our newest surrender has brought, we are passing that along by trying to put the "fun" back in fundraising! 🙂 We are offering a "Name a Puppy" sponsorship opportunity, as well as several other sponsorship levels. This is a great way to honor a beloved 4-legged family member who is no longer with us. Name one after a good friend or loved one. Or, maybe help ensure these sweet babies have full tummies after weaning? The many opportunities for sponsorship appear below:
$250-name a puppy
$100-vaccines
$50-vet visit
$30-supplements
$25-solid food
$20-leash and collar
$10-toy
$5-treats 
To sponsor an individual puppy, just click on that puppy's picture, further down on this page. A little info about the puppies… their sweet-faced momma can be seen to the right. Dad? Dad is also a large/giant breed dog, but not a Great Dane. The father of the puppies is a mastiff whom the family also owned. So, while there will be an element of surprise in watching these sweet babies as they mature, there is little doubt they will grow to be big puppies and adults. But again… PUPPIES!!! Who doesn't love puppies? These puppies will be available for adoption in Indiana, Illinois, Wisconsin, and Missouri, likely in the month of June. Please see below for details.
Please click on a puppy's picture if you would like to sponsor that puppy.
PLEASE NOTE:
Adopting families still retain the option of re-naming the puppy, if so desired.

Adoption applications will not be accepted for the puppies until they are six weeks old, ‪on March 16, 2020‬.

Applications will be accepted for a period of two weeks (‪March 16-March 30, 2020‬). Applications received after the cut off date will not be considered for a puppy, but will be processed and considered for other dogs that are in our rescue.

Any applications submitted prior to the acceptance period will be placed on hold. Please note that submitting an application early WILL NOT guarantee placement with a puppy.

Applications are NOT first come, first served. FFGDR will match individual puppies with homes which the FFGDR Adoption Coordinator believes to best suit the puppy's personality and needs as suggested by the foster home. (e.g., no other dogs/needs another dog, not good with kids, chases cats, etc.).

Only approved applicants that have been potentially matched with a puppy will be granted a visitation. Visitation will be based upon the foster family's availability.

Puppies will be matched with families at approximately 12 weeks of age and can go home at approximately 17-20 weeks of age – once they have been spayed/neutered, are current on vaccinations, and have been medically cleared by their veterinarian. Each puppy will likely be ready for adoption on a different date. ESTIMATED ADOPTION DATE: ‪JUNE 1‬-30, 2020.